Perhaps you're wondering how to write a research blog, or even why you should write one in the first place? The following will provide you with an easy-to-follow summary of how to write a science blog, and why.
A blog can be a good way of highlighting expertise or drawing attention to a report or published scientific article. It may also help you to win new projects.
So, if you work for SINTEF and want to write a blog about your research and your project, there's no need to delay. All you have to do is follow these easy tricks and tips and write a draft. Then we, the blog editors, will help you make the finishing touches and deal with the technical aspects of getting it published.
#SINTEFblog  is ideal for SINTEF research bloggers who want to get the attention of potential industry partners, researchers and others who are interested in new technology. Watch this video and see what happened when Alexis Sevault wrote a science blog (In Norwegian).
The first thing you have to think about is: Who are you writing for?
Your target audience will determine both the content of the blog, and the form of language you use. #SINTEFblog is ideal for audiences made up of researchers, scientists and potential clients (including management personnel) who have some knowledge of, or interest in, the subject you are writing about. These people are often looking for details, so there's no problem using technical terminology. But don't write a blog in the same way as a scientific article or a research report.
#SINTEFblog is ideal for audiences made up of researchers, scientists and potential clients (including management personnel)
You may want to aim at a wider audience. Here, it's a good rule of thumb to think of making the text comprehensible to a High School student. If you want to use technical terminology in this kind of blog, you will have to include explanations, and possibly also links to quality articles at Wikipedia.
Primary target audiences
Potential clients who are interested in our activities and want to know more about our research fields, and how we work.
Research scientists and existing clients who have a particular interest in exactly what you are working on. Here, the blog should be written in English, and include a link to a scientific article that will provide a detailed description of your research work.
Potential job seekers who are interested in finding out more about how we work.
Secondary target audiences
Journalists who are interested in research material. You must write in English if your target audience is international.
Politicians who are looking for examples of high-quality Norwegian research projects.
Tech-interested audiences who have a general interest in technology and research
It's important that you decide on your target audience(s) before you start writing. You must also keep your audience(s) in mind throughout the writing process. Ask yourself the following questions:
Will my audience(s) understand what I mean here?
Is this point of interest, or relevant, to my audience(s)?
What impression do I want my audience(s) to be left with when they've finished reading?
Content and form of a research blog
Don't be afraid that your blog isn't perfect.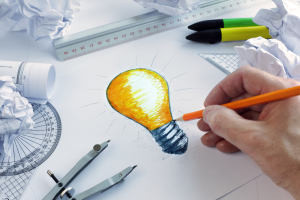 There's no such thing as the perfect blog!
The most important thing is to get started and let the blog editors help you over the line!
Useful questions to ask yourself before you start writing:
Exactly what is it that you have found out?
What methods have you used?
Why is this research important? Why should anyone (especially my target audience) be interested in this research?
What environmental benefits might this research have?
Will this research lead to a more sustainable technology?
Will it lead to a less expensive and/or safer technology?
What is your or your group's contribution to this field internationally?
What is needed for this technology to be applied/commercialised?
Is this project relevant to others in the industry? Will it enable us to attract new clients and win new projects?
How should a research blog be structured?
Use a descriptive title. The job of the title is to provide the reader with a clear indication of the blog's content. We don't want people to be fooled into clicking on a blog on false premises. What we do want is to attract "quality readers" who are attracted to a blog because its content is something in which they are genuinely interested.
It's a good idea to have a "working", or provisional, title in mind before you start writing. This will provide you with a sense of direction as you write. Later, when you've finished writing, you can change the title to something that provides an accurate description of the content of the blog.
Examples of good versus bad descriptive titles: "New research highlights the importance of a good fluid balance". As opposed to "Keep hydrated!" (Here are some more good examples). The same applies to subheadings.
A blog may very well be anything from 1000 to 2000 words. Long blogs are good, provided that the text is well structured. The first thing you have to do is prepare your readers' expectations. You will have achieved this with a good title. In the first paragraph you should expand on the title and encourage your readers' curiosity to read on. Be specific about the content of the blog, who it is intended for, and what your readers will learn by reading on.
The most important things come first. A blog shall be an inverted version of a standard scientific article in that you should start with the conclusion. In general, introductions that "build up suspense" work badly in blog formats. More complicated technical explanations should be left to later in the text. The more interested the reader is in the subject, the more he or she will want to dive deeper into the details and continue to read on. Divide the text into relatively short paragraphs and make frequent use of subheadings. This makes it easier for readers to tackle longer texts.
General tips
Remember to include references and sources where relevant, but preferably within the text and not as a list at the end.
It's very important to insert links to SINTEF web pages referring to relevant projects, in-house expertise and laboratories (no)
Don't hesitate to insert photos or illustrations in your blog. Ideally, photos should include you, the author. For example, a photo of you working in your lab.
Don't forget to be generous, and include/credit your colleagues and project partners as and where relevant.
It's also a good idea to let key partners read the blog before publication.
Writer's block? Some suggestions for getting started
Research results are good news! Have you and your colleagues recently published a scientific article?
Research methods. Traditional news media are often not interested in methods, but descriptions can be interesting in a research blog. What methods have you used? How sure are you about your results?
Do you want to highlight a new area of skills and expertise? You can blog about that!
Do you want to comment on international research going on in your field? Why is this interesting in relation to your area of research?
Recently started or ongoing research Projects? Write about what you are researching into and why.
Have we been granted new laboratory facilities? Write about these and the opportunities they provide.
Finally: Distribute your blog!
When your blog is published you must share it with your colleagues and research partners. You can use e-mail, our Yammer network, and even social media platforms such as LinkedIn, ResearchGate, Facebook and Twitter.
By Anne Steenstrup-Duch (updated 10 October 2018).