The ocean is full of millions of different types of small particles. Our planet relies on these particles for a stable climate, a sustainable food chain, and to produce around half of the oxygen you are breathing right now. But not all these particles are good – some particles could be carrying toxins or might even be pollutants themselves.
It is my job is to try to find new ways to measure these particles using instruments we can take out to sea and deploy into the ocean. I am a 'senior scientist' at SINTEF Ocean, based in Trondheim, Norway. I work with lots of great researchers and engineers in the Department of Climate and Environment.
We are often challenged by research questions about small particles in the ocean: How big are they, what are they, and how do they move? These are tricky questions to answer because accurate measurement of small particles suspended in the water is technically demanding. These particles have complicated, delicate structures that cover a wide range of sizes, concentrations, and movement characteristics. In the photo above, we have combined a selection of sensors that together, can measure the sizes and concentrations of particles from 2 micro-meters to about 5 milli-meters in length. That size range is equivalent to a system that can measure the length of Gløshaugen campus and the length of Norway at the same time!
There is an ever-evolving list of reasons why we try to measure these particles. Measurements of particles and organisms in the laboratory and ocean water column are a major component of understanding many processes critical for decision makers with industrial or environmental interests. Oil and gas leakages, salmon lice, microplastic, early fish life stages, mine tailings, sediment transport, and global biogeochemical cycles are just some examples of where these measurements are required. Here are some of the things we have helped to solve within the last 5 years, together with some items we are still scratching our head over at the moment.
Since 2015, we developed methods that have enabled:
Quantifying the effect of subsea dispersant injection on oil droplet and gas bubble size distributions.
Quantifying the effect of high pressure on the efficiency of subsea dispersant injection applied to mixed oil and gas releases.
Emergency real-time monitoring technology for subsea blowouts.
Mapping characteristics of particles surrounding a submarine mine tailings discharge.
Measurements of gas bubble size distributions from subsea gas releases.
Automatic identification of salmon lice.
Particle size, shape and classification onboard autonomous platforms.
Autonomous measurements of meso-zooplankton onboard AUVs.
Enhancing capabilities for subsea blowout monitoring.
In-situ observations to support biogeochemical ocean models.
New technology for real-time monitoring and modelling of drilling discharges.
Automated subsea dispersant injection.
Improving understanding of the nature and movement of marine oil snow.
Measurements of the settling speeds of microplastics in seawater.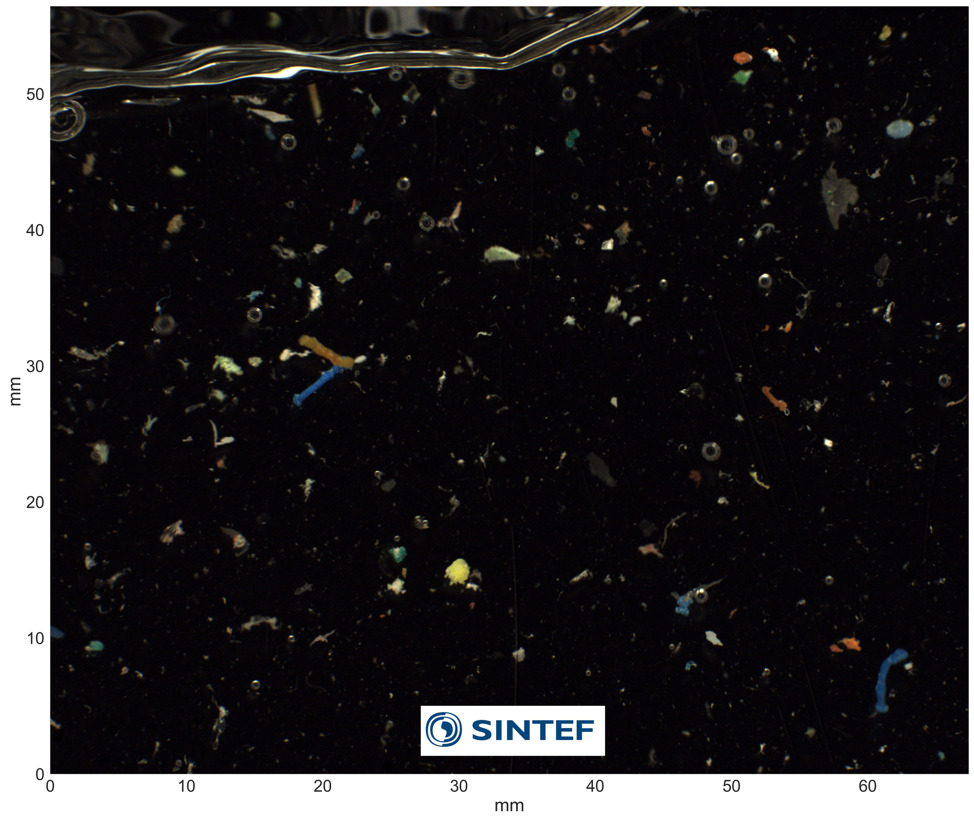 But we are far from finished!
We are still working hard to find better methods for:
Autonomous resource mapping of fish eggs, larvae, and copepods via combined imaging and acoustic monitoring.
In-situ salmon lice monitoring and warning systems.
Microplastic detection and monitoring.
Behaviour and mapping of meso-zooplankton within thin layers.
Linking particle observations to the light in the ocean, and satellite measurements of the light leaving the ocean.
In-situ identification of sub-lethal toxic effects on meso-zooplankton.
Today, each specific research field or application must carefully choose which sensors to use for measurement. This often requires prior knowledge of what is expected in both type and size of the particles or organisms we need to measure. There is continuing need for ocean observing solutions that can be widely adopted by both environmental monitoring service providers and the scientific community, that make use of multiple methods, and a need for software that can handle the large volumes of data analysis required.
In our department, we have been developing technology to measure and image particles in-situ over that last 6 years. SINTEF's SilCam is an instrument that we have developed at SINTEF for measuring oil droplets and gas bubbles in subsea blowout plumes. This is important for helping responders make decisions during accidents like the Gulf of Mexico Deep Water Horizon spill. Since initial uses for oil and gas, this instrument has been used for many other types of particle observations in the sea.
Such in-situ sensors are a pre-requisite for obtaining accurate time-space varying ocean data. In-situ sensors are also a requirement for autonomous monitoring systems, which aid cost reduction, improve sampling efficiency, and increases the speed at which data can be made available. All this provides an excellent foundation for testing multiple techniques and assessing their pros and cons for different applications. After such testing we can refine our technology, and if necessary work towards integrating it on autonomous platforms for efficient long-term monitoring applications. This type of research requires resources and equipment that can be provided by infrastructure hosted by institutes like SINTEF Ocean.
Now, SINTEF and NTNU are building a new OceanLab inside the Trondheimsfjord and eventually, as part of Ocean Space Center, extending out to the area of Hitra-Frøya and around to Ålesund. This will be a real-world lab for researchers and developers around the world to test underwater robots and the particle sensors we might put on them. Trondheimsfjord will soon be full of state-of-the-art equipment being prototyped onboard new robots, environmental data buoys and autonomous ships. The OceanLab Marine Observatory will contain lots of state-of-the-art environmental monitoring technology, test capacity for sensor development, and establish a huge dataset collected over at least 10 years from continuous monitoring at different sites in Trondheimsfjord. I am excited to be part of setting up such infrastructure, which will provide researchers an excellent platform for tackling the environmental challenges of the Ocean Decade's vision to ensure that ocean science can benefit both a sustainable ocean ecosystem and society.
Want to hear more? Check out my TedX talk on the subject here.