Previously, excess heat from industrial processes such as drying can't normally be utilized further since the temperature level is too low. A new high temperature heat pump aims to recover this energy to reduce energy demand in industrial settings and lower carbon emissions. The project has started its demonstration phase in an Austrian manufacturing facility.
Waste heat doesn't have to be wasted
As part of the EU project DryFiciency, the Austrian Institute of Technology and SINTEF Energy Resarch have been working together to demonstrate the feasibility of a high temperature heat pump to recover drying energy at three different production plants.
The heat pump uses the technology of the Norwegian supplier Viking Heat to produce usable process heat of up to 150°C and is installed in the production site at Uttendorf of the Austrian brick manufacturer Wienerberger Österreich GmbH.
First demonstration site
The Wienerberger plant is the first demonstration site to integrate this novel heat pump technology in order to use its own excess heat to reduce its primary energy demand. Every kWh supplied by the heat pump reduces the emissions of climate gases accordingly.
In the factory, bricks are produced from clay which is formed into the required shape, then dried and backed. During the drying process, temperatures between 100°C to 170°C are supplied by conventional air. As the drying air cools, moisture from the bricks is removed. This moist, cold air is too cold and unusable down- or upstream in the production plant. The new DryFiciency concept means it is now possible to reuse this energy and upgrade it to a usable temperature level of between 120° to 150°C.
Waste heat recovery in industrial drying processes
The overall objective of the DryFiciency project is to lead energy-intensive sectors of the European manufacturing industry to high energy efficiency and a reduction of fossil carbon emissions by means of waste heat recovery to foster competitiveness, improve security of energy supply and guarantee sustainable production in Europe. The project addresses drying applications. The results are however of major relevance for a number of other energy-intensive industries such as the pulp and paper industries.
Waste heat sources that can be valorised with DryFiciency heat pumps include:
Waste water
Humid off gases from drying processes
Water streams that need to be cooled before further treatment
Waste heat from chillers (refrigeration)
Processes that require cooling
Typical processes
Industrial plants provide a wide variety of heat sources and potential users, meaning there are various applications for industrial heat pumps. Those are some examples:
Drying and dehydration
Evaporation
Washing, cleaning
Cooking
Sterilization, pasteurisation
Space heating
District heating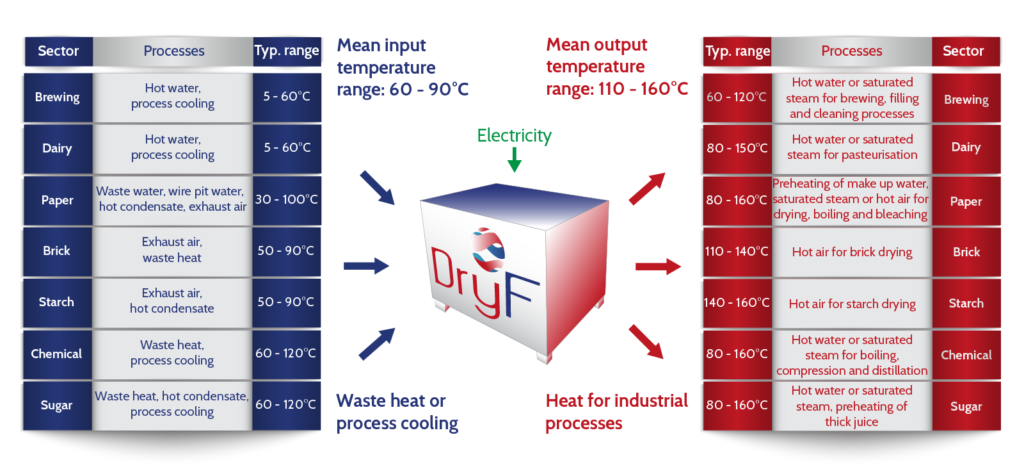 Environmental and economic benefits
The potential of the technology demonstrated is to reduce the specific energy demand for drying and dehydration from 700-800 kWh per ton down to 200 kWh per ton of evaporated water. The energy switch from fossil fuels towards heat pump technology reduces the environmental impact considerably and offers at the same time a potential for energy savings of up to 60-80 %. This will lead to substantial reduction of energy costs and consequently lower specific product costs resulting in a significantly improved competitiveness.
The second demonstration heat pump will be installed in the Starch manufacturing plant of Agrana Stärke GmbH close to Vienna in March 2020. The third demonstration site will be installed by the Norwegian company Scanship. A public demonstration event is scheduled for June 2020.
About DryFiciency
DryFiciency is a four-year Innovation Action project funded by Horizon 2020 Research & Innovation Framework  Program  under the Energy Efficiency 2016 – 2017 call and "Valorisation of waste heat in industrial systems (SPIRE PPP)" topic.
A consortium of 13 partners made of 2 research institutions, 5 SMEs, 5 large industrial companies and 1 association is addressing the specific challenge that Resource and Energy Intensive Industries (REI) produce significant amounts of waste heat currently being lost. Energy and fuels represent between 20% and 40% of the production costs in several of these industries and produce large amounts of CO2 emissions. DryFiciency aims to improve energy efficiency by designing, building, testing & demonstrating high temperature heat pump systems applicable to these industries.
The Norwegian partners involved in DryFiciency are SINTEF Energy Research, Epcon Evaporation Technology AS, Viking Heat Engines AS and Scanship.