Flow assurance is essential for the oil and gas industry and solutions to prevent hydrate and wax formation are required. Previous solutions are based on injection of chemicals, typically MEG. SINTEF Energy has developed Direct Electrical Heating (DEH); a cost effective (OPEX) and eco-friendly alternative.
The DEH concept is to apply an electrical current through the steel pipe itself, heating the pipe content above critical temperatures for hydrate/wax formation.
Direct Electrical Heating is developed and qualified in close cooperation with Norwegian oil companies, cable manufacturers and installation companies. Since 2000, the method is field proven at more than 40 installations with very good performance and under various operating conditions (keep warm during shutdown, reheat from cold and continuous heating).
SINTEF Energy has participated in all previous DEH development projects. Our contribution typically includes:
rating of the electrical system (DEH cables and topside power supply),
anode design for the current transfer zones
and interference analysis with regards ac corrosion risk.
Direct electrical heating – how it works
The DEH working principle is that the heated flowline is part of an electrical circuit, heating the pipe content above a critical temperature limits for hydrate/wax formation. The DEH system includes a riser cable down to the sea floor, a feeder cable towards the flowline and a DEH cable piggybacked to the flowline all the way along the heated section. At the far end, the piggyback cable is connected (grounded) to the pipe steel. Analogous, a return cable is connected to the steel pipe in the near end. Thus, the return current is divided between the steel pipe and seawater. The heat development (W/m) is caused by power losses in the steel pipe and piggyback cable, including the electromagnetic coupling between the cable and the steel pipe.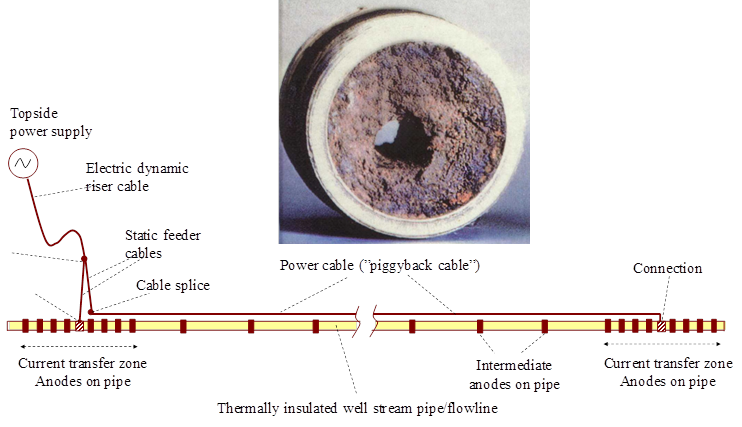 Read more on the DEH fact-sheet. Heating of pipelines (DEH)_small
Originally written by Harald Kulbotten/new version 15. June 2018.