The cruise industry has a lot to deal with right now, but the long-term emissions challenges remain a priority. Much work has gone into alternative propulsion, but other opportunities remain. A new research project aims to address emissions-reduction in the onboard hotel facilities.
The world's cruise industry has prospered in a steadily growing market over the last decades.
According to the Cruise Lines International Association (CLIA), 30 million passengers sailed on a cruise ship in 2019, up from 18 million in 2009.  In the summer of 2019, about 850,000 cruise tourists visited Norway, spending more than 2 billion NOK as a direct financial boost to the Norwegian economy.
Impact of COVID-19 on the cruise industry
Until the COVID-19 pandemic hit the world, the rapid growth trend of the cruise industry looked certain to continue into the 2020's. At the beginning of 2020, the number of new cruise ships on order, and to be delivered in the years ahead, was at a record high.
But the coronavirus crisis has impacted the cruise industry severely, first through multiple COVID-19 outbreaks on ships, then major cancellations of cruises around the world, thousands of employees laid off, cruise ships anchored off coasts, laid-up in docks or even scrapped, and the ultimate consequence of some smaller cruise brands being forced to shut down their operations entirely.
Now, the cruise lines are looking for ways to resume sailings. In the US, the Centers for Disease Control and Prevention (CDC) has issued a 'Framework for Resuming Safe and Responsible Cruise Passenger Operations.'
For the EU and EEA, the International Maritime Organisation (IMO) has circulated guidance on a gradual and safe restart of cruise ship operations in European waters.
National and international environmental regulations remain a hurdle
While the cruise industry has been significantly affected by the COVID-19 situation, the liners were already facing increasingly stringent environmental regulations.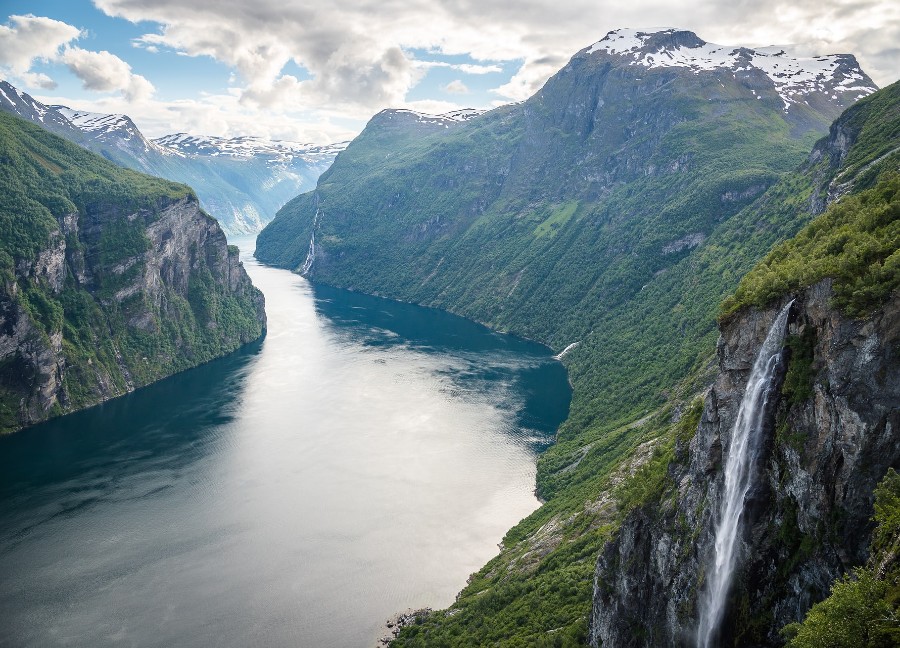 The energy demand of cruise ships is traditionally supplied by burning fossils fuels, leading to a higher carbon footprint per passenger in addition to air pollution in major ports worldwide.
Also, with an estimated global annual energy consumption of 250 TWh, cruise ships represent an energy-intensive segment of the shipping industry.
To decrease the maritime carbon footprint, IMO has adopted a strategy to reduce the total annual greenhouse gas (GHG) emissions from ships by at least 50% by 2050, compared to 2008. The Norwegian parliament has decreed that the country's western fjords (inscribed on UNESCO's World Heritage List) shall be free from cruise and ferry emissions no later than 2026.
Also, Norway has committed itself to reduce GHG emissions by at least 50% by 2030 compared to 1990 levels. This target can only be met if the Norwegian shipping sector contributes its share of cuts.
Alternative propulsion systems and fuels
Zero emission cruising is the long-term ambition of the cruise industry. Up until now, efforts towards green and more environmentally friendly cruise ships have to a large degree focused on more energy-efficient propulsion systems and new fuels. There is a current shift from heavy fuel oil (HMO), a sulphur-rich fuel that causes air pollution, to low-sulphur fuels and to liquid natural gas (LNG) which is virtually sulphur free and the cleanest burning fossil fuel.
The first cruise ship in the world fully powered by LNG both at sea and in port, AIDAnova, was launched in December 2018. Carnival Corporation & plc, the world's largest cruise line operator, has 3 LNG-fuelled ships in operation and a further 8 on order, to be delivered by 2026.
To lower GHG emissions further, the development has been directed towards hybrid solutions of alternative energy carriers. In Norway, new coastal cruise ships are set to be powered by LNG and batteries in the future, with the additional option of utilizing liquid biogas (LBG). Looking further into the future, the advancement of fuel cell technology and the use of hydrogen, in combination with renewable energy, seems like a viable option to decarbonize cruise ships.
However, even though zero-emission concepts, such as batteries together with shore power supply, can realize zero emissions during short periods, the total energy usage is not necessarily reduced.
Energy use on board cruise ships must be addressed
For cruise ships, the energy consumption of the hotel facilities on board the ships can account for up to 40% of the ship's total energy usage. Energy is needed for cabins, restaurants, shops, swimming pools, spas, lounges, bars, and entertainment, etc. This makes cruise ships significantly different from other shipping segments where the energy consumption is dominated by the propulsion system.
Therefore, to fully realise zero-emission cruise ships in a cost- and energy-efficient way, it is crucial to put more efforts into reducing the energy usage of the hotel facility systems on board the ships.
The CruiZE project
Cruising towards Zero Emissions (CruiZE) aims to develop innovative and energy-efficient concepts for the hotel operation of cruise ships, optimized for the ships' propulsion systems and varying operations conditions.
Novel propulsion systems, based on hybrid solutions of LNG, batteries and hydrogen, imply a significant change in the energy system of cruise ships. The waste heat characteristics and available heating and cooling loads will be very different from that of a ship driven e.g. by diesel or heavy fuel oil.
In CruiZE, the focus is on development of integrated cooling and heating concepts on board cruise ships, including innovative technologies for waste heat/cold recovery, compact thermal storage, air conditioning using natural refrigerants, freshwater production, and provision refrigeration.
By addressing challenges related to efficient design, operation and control of the ships' thermal energy system, CruiZE will contribute to an accelerated transition towards greener and more environment-friendly cruise ships. The target is to enable zero emissions in ports, minimized emissions at sea, and an average reduction of 10-20% in the total energy usage by cruise ships.
The development of novel concepts for marine conditions will be based on adoption of existing land-based technologies. Thus, CruiZE will utilize knowledge generated by previous projects pertaining to waste heat recovery, energy efficiency, and the use of natural refrigerants for supermarkets, such as HeatUp and SuperSmart-Rack, and the H2020 project SuperSmart.
For thermal energy storage and integrated energy systems, valuable results will be available from the ongoing RCN-supported projects PCM-STORE and LTTG+. In addition, CruiZE will interact closely with the FME HighEFF (Centre for Environment-friendly Energy Research) and the H2020 project MultiPACK led by NTNU.
CruiZE is a new 'Knowledge-building Project for Industry', granted by the MAROFF program of the Research Council of Norway. The project is a collaborative project led by SINTEF Energy Research, with NTNU, Carnival Corporation, Kongsberg Digital, Teknotherm Marine, Ulmatec Pyro, and Vard Design as partners.
This article was written by Sigurd Sannan and Cecilia Gabrielii from SINTEF Energy Research.