Rooftop PV (photovoltaics) plays an important role in achieving a balance of zero greenhouse gas emission over the lifetime of a building, as is one of the topics in the ZEN Research Centre. In China, the use of rooftop PV technology has been massive, but surprisingly, has not been linked to smart, eco cities initiatives.
I recently spent three months at Tsinghua University in Beijing as a visiting researcher, collecting data on China's solar PV industry and visiting several rural and urban rooftop PV sites. My main aim was to find out why there has been such a rapid increase in rooftop PV usage, and what type of practical implications rooftop PV has had for users and grid managers. In this blog you can read some of my findings.
The exponential growth of rooftop PV in China
Solar PV in China has grown exponentially. At the end of 2017, China had a capacity of 129 000 megawatts (MW) of solar PV compared to a mere 100 MW in 2007 (REN21 2018). During 2017 alone, the capacity of MW increased with 53 000 MW of which  60% was installed in large centralized PV-farms. The remaining 40% was distributed on rooftops and grounds in Chinese cities and villages.
Rooftop PV development has been strongly supported by Chinese policy making because it brings along positive side effects such as ensuring a transition to a low-carbon society, providing electricity for its citizens, and creating jobs and added value.
In 2016, 61% of China's energy consumption was related to industry, 21% to transport, and only 14% to buildings (CREO 2017). Since coal was used for 67% of the electricity generation (CREO 2017), the potential for reducing emissions through rooftop PV is large in the industry sector. Higher power prices for industry and commercial sectors also provide a strong incentive for these sectors to reduce costs by installing rooftop PV.
The past years, China has also seen a veritable upsurge in the number of smart and eco-cities. Since 2012, 470 of China's over 600 cities have been appointed status as 'pilot smart cities' (Tan-Mullins et al. 2017). However, are these efforts made in order to achieve urban decarbonisation? As pointed out by one of the informants from a government urban planning bureau, there may be other objectives ranking higher:
Several of these smart/eco projects are focusing on economy and economic growth. They may seem fantastic, but when you look into it, there's not really much new happening.
PV installed for extra income in rural areas
I spent two days in a small village in Shandong province talking with the local government and people in households with installed rooftop PV. They were all interested in PV for the same reason: to get an extra income. Their 5,4 kWp rooftop PV installation had cost them 30 000 RMB to install. They got an income of about 7000 RMB per year, depending on the amount of sun. All the electricity was sold to the grid. Since the PV panels had a life expectancy of 25 years and the investment would be paid down after around five years, they could enjoy an income the next 20 years.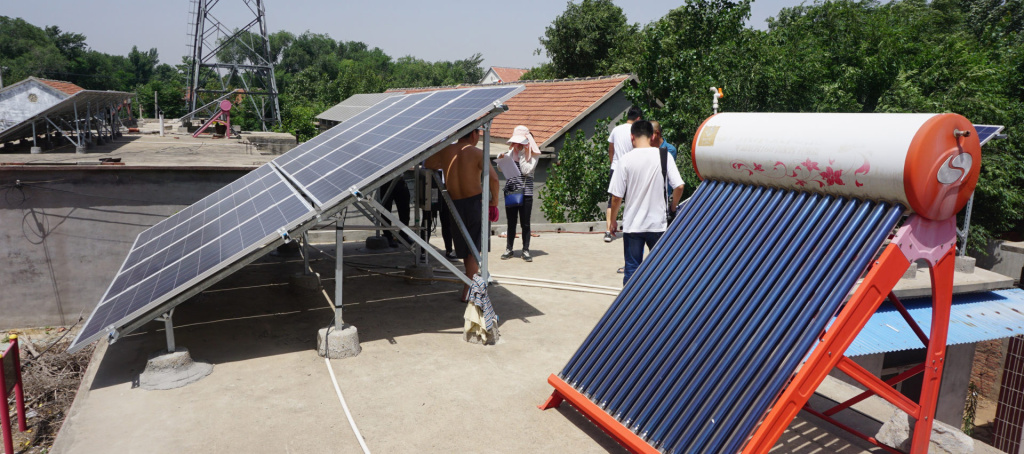 Rooftop PV in urban areas
I visited two different projects in Beijing with rooftop installations of 300kWp and 500kWp. Both projects were run by companies and both were interested in getting experience with this new technology, but they also saw opportunities to save expenses. Companies (industry and commercial) that installed rooftop PV could 'pick one of two' government support mechanisms: to receive a feed-in tariff and sell all electricity to the grid, or to use all electricity and get a subsidy, but to sell the surplus electricity to a lower price (Zhang 2016).
The project engineer of the 500kWp project said they picked the option to use all electricity because "it is not attractive for us to sell it, since our electricity price is 1,26 RMB, and we only get 0,35 RMB for selling it". During a year they sold only 1% of all the produced solar electricity, typically during Spring Festival and similar.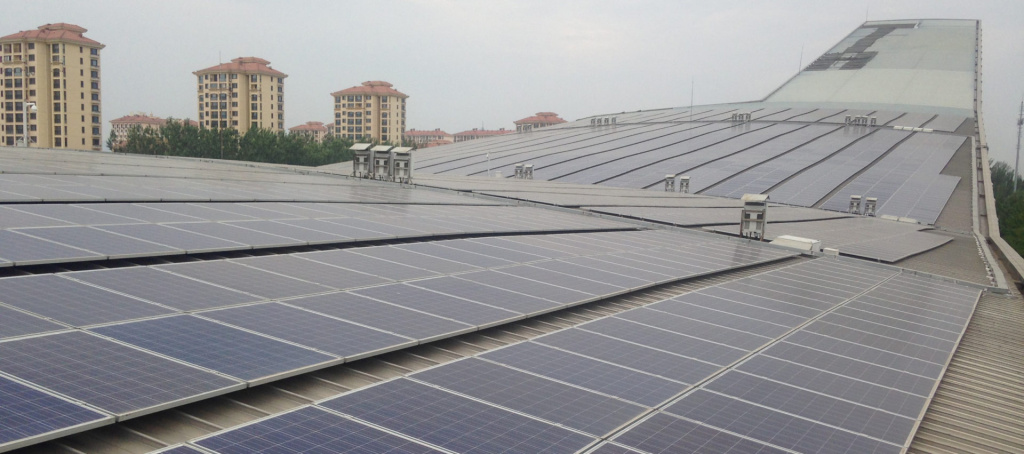 Interviews with various experts revealed more about the reasons why PV installation has shifted from large centralised sites to more distributed usage. The main reasons were: a high degree of curtailment (i.e. loss of the produced power) in centralised PV projects and lowering profits. In addition, the best and cheapest sites for large-scale PV deployment had been taken, making urban, rooftop-locations more attractive.
To sum up, three findings have been made so far
Chinese smart city initiatives and increased use of rooftop PV have not been connected.
The urban Chinese sites were focusing on industry and commercial-scale rooftop projects with ambitions to save energy costs, whilst the rural projects were largely initiated by a highly enthusiastic local government. The local village population were interested in small rooftop PV installations to gain an extra income.
The reasons for increased rooftop PV growth the past years were related to increasing costs of running centralised PV projects.
This decentralisation may contribute to large-scale changes for how electricity can be sourced sustainably in the future. Nevertheless, this may be difficult if local, city and provincial government officials are still rewarded for creating direct economic growth that opposes decarbonisation efforts.
The criteria for achieving smart, eco cities should include usage of renewable energy such as rooftop PV if they want to ensure low-carbon electricity provision in the future. This would be a win-win situation both for the smart eco cities, and for the increased deployment of rooftop PV.
This blog is based on a paper presented at the Sustainable Urban Energy Systems Conference in Delft, Netherlands on November 8th.
Literature:
CREO (2017), China Renewable Energy Outlook 2017, Report by Energy Research Institute of China Academy of Macroeconomic Research / China National Development and Reform Commission, China National Renewable Energy Centre (CNREC).
REN21 (2018). Renewables 2018. Global Status Report, ren21.net (URL): http://www.ren21.net/wp-content/uploads/2018/06/17-8652_GSR2018_FullReport_web_final_.pdf (accessed 20.09.18)
Tan-Mullins, M., Cheshmehzangi, A., Chien, S. and Xie, L. (2017). Smart-Eco Cities in China: Trends and City Profiles 2016. Exeter: University of Exeter (SMART-ECO Project).