With contributions from Mona Mølnvik, Grethe Tangen, Inna Kim, Alvar Braathen, Elin Skurtveit, Pierre Cerasi, Peder Eliasson, Alv-Arne Grimstad, Simon Roussanaly, Solrun Vevelstad, Jonathan Polfus, David Berstad, Stian Trædal, Andrea Gruber, Ruben Mocholi Montanes, Svend Tollak Munkejord, Sigurd W. Løvseth and Marie Bysveen
What CCS is – and why it matters
Carbon Capture, Transport & Storage (CCS) is a series of technologies and processes that aim to significantly cut carbon dioxide (CO2) emissions. This is achieved by capturing and concentrating CO2 emitted from industrial processes and energy production instead of releasing it into the air, then transporting and injecting it deep underground. In Norway, this is done beneath the seabed into saline aquifers (porous geological formations containing water) and sealed reservoirs that once held fossil fuels.
While renewable energy and energy efficiency measures have a major part to play in combating climate change, the International Energy Agency (IEA) estimates that energy demand could increase by as much as 45% by 2030. Decarbonizing the non-renewable portion of that energy generation is a must as we move through the green transition. CCS is also the only technology that can decarbonize critical industrial sectors, such as cement and metal production and waste incineration.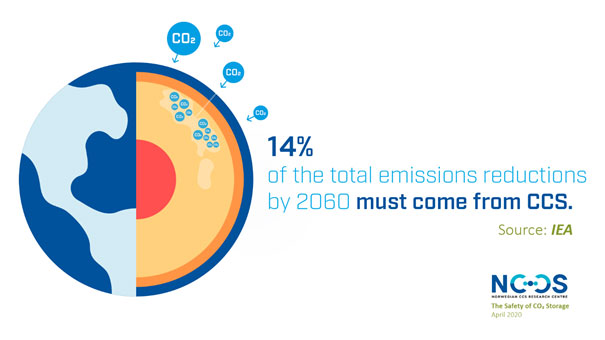 The Intergovernmental Panel on Climate Change (IPCC) found that to meet the challenging targets of the Paris Agreement, global CO2 emissions must be reduced by 50-85 % by 2050. IEA findings say that to meet these targets, an estimated 14% of the total emissions reduction by 2060 should be met with CCS.
Norway's Longship project
Longship is one of the first industrial CCS projects to develop an open access infrastructure with the intent and the capacity to store significant volumes of CO2 from across the European continent.
Announced on 21 September 2020, the proposals include substantial government funding to complete a full-scale implementation of the complete CCS chain. The funding is for:
The implementation of CO2 capture technology at Norcem's cement factory in Brevik
The implementation of CO2 capture technology at Fortum Oslo Varme's waste incineration facility in Oslo, on condition that the project secures other funding
The CO2 transport and storage project 'Northern Lights'
Once fully implemented, CO2 captured in Brevik and Oslo will be transported by ship to the west coast of Norway. From there, the CO2 will be transported through a pipeline to a carefully selected location in the North Sea, where it will be injected and stored more than 3km below the sea bed.
Equinor operates 'Northern Lights' in collaboration with Shell and Total. The resulting open access transport and storage infrastructure will provide capacity for CO2 that goes well beyond what is required for the Norcem and Fortum capture sites.
The government funding proposal for the full-scale implementation of the complete CCS chain builds on years of previous projects and research, in which NCCS has played a role.
How NCCS supports the goals of Longship
The Norwegian CCS Research Centre (NCCS) is an FME (a centre of excellence under the Research centre for environmentally friendly energy research) that will enable fast-track CCS deployment through industry-driven science-based innovation, addressing the major barriers identified within demonstration and industry projects, aiming to become a world-leading CCS centre.
Co-financed by the Research Council of Norway, industry, and research partners, NCCS aims to help facilitate CO2 storage in the North Sea, contributing to the Norwegian government's ambition to realize the full-scale Longship project. NCCS addresses questions of cost reduction, risk reduction and scaling along the complete CCS value chain, including capture, transport, and storage.

Industry projects can benefit from the answers provided by NCCS for successful implementation, while NCCS needs industry projects for real-world examples, data and verification/validation.
This dual approach to research with commercial deployment has already proven fruitful in laying the groundwork for Longship. Continuing the same approach will help take CCS technologies to a full-scale implementation in Norway, Europe and beyond.
With a stated goal of enabling fast-track CCS deployment, NCCS is naturally aligned with the requirements of Longship. The NCCS research plan was designed to address the major barriers identified in previous and ongoing demonstration and industry projects, through industry-driven science-based innovation. NCCS works along the complete CCS value chain.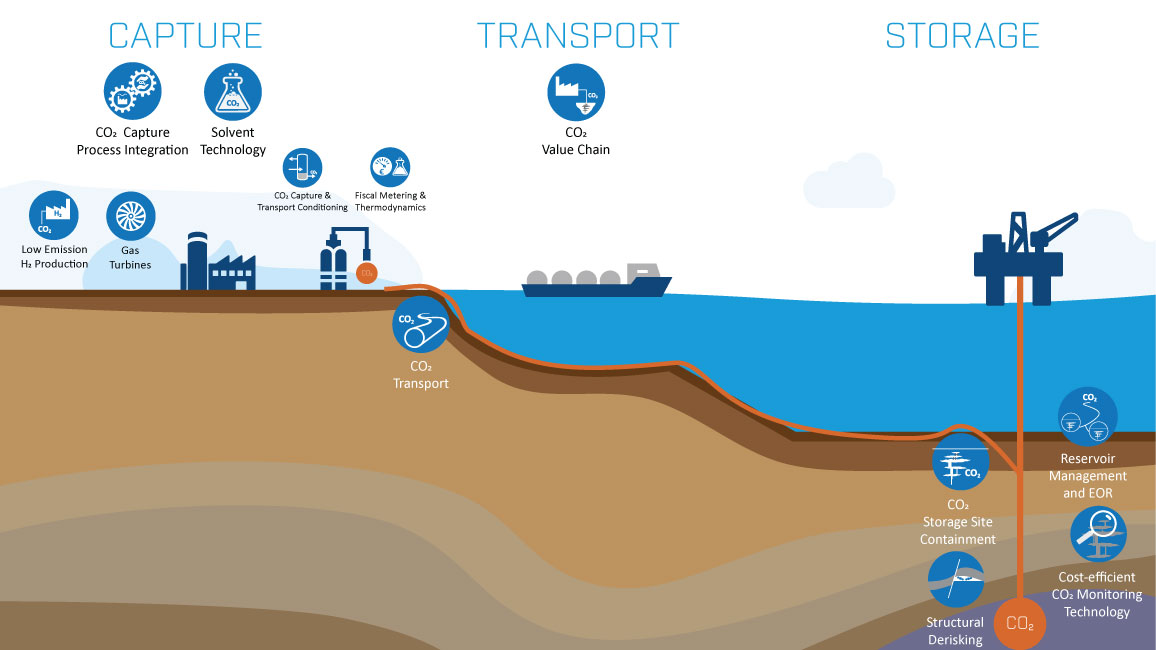 Capture
Longship, along with other major CCS projects worldwide, plans to use solvent-based CO2 capture technologies. NCCS researchers work on solvent stability and degradation mitigation technologies that minimize the emissions and solvent losses from absorption-based CO2 capture plants, reducing both environmental risk and cost.
While solvent-based capture technology is considered state-of-the-art for the post-combustion CO2 capture, there is a need for more cost-efficient and environmentally friendly solutions. NCCS research on CO2 capture solutions can be used to make recommendations for hard-to-decarbonize industries depending on their circumstances. Technologies in NCCS are being developed to increase lifetimes of solvents, reduce the environmental impacts, and improve the safety of CO2 capture plant operations.
But the future of CO2 capture may not rely only on solvents and perhaps not for all sources of CO2 emissions. One specific example for Waste-to-Energy plants developed in NCCS is the novel integration of CO2 capture using a Calcium Looping (CaL) process. This captures CO2 from the plant and allows the production of energy improved efficiency and lower costs compared to the solvents considered state of the art today
Hydrogen production from natural gas with the CO2 captured is one possible driver for widespread implementation of CCS. NCCS researchers will demonstrate a low-temperature capture and separation of CO2 at the conditions relevant for hydrogen production using third-party membrane technology. In addition, NCCS is helping a gas turbine technology vendor with detailed fundamental insight that can help them develop gas turbines that can run on 100% hydrogen fuel.
A successful demonstration will open up new economic possibilities for Norway relevant to the country's Hydrogen strategy and the Longship investment.
Transport
When Longship is fully implemented, CO2 will be transported via pipeline to storage sites. This requires a deep understanding about the behaviour of CO2 in pipelines. We already understand a lot about this behaviour from decades of experience with natural gas, and from CO₂ projects in Norway and North America. Further research is needed to understand processes that may not be covered by existing tools and methods to further reduce cost while ensuring safety.
Results from NCCS research into safe pipeline design have already been used by Equinor in the Northern Lights project.
The transport of CO2 by medium-pressure shipping is already a mature technology, with a fleet of tanker vessels already in use by Norwegian company Yara International. NCCS research has shown that different shipping temperatures and pressures can further lower the cost of CO2 transport from the east coast of Norway and Europe to the Northern Lights storage site. Operational knowledge and understanding to reduce risks associated with low pressure transport is an ongoing topic in NCCS.
Finally, flow metering is required in the first phase of Longship. An NCCS fiscal metering test loop at industrial capacity will validate fiscal meters for CO2, which are needed for compliance with government regulations, avoidance of ETS costs, and custody transfer among actors in the CCS value chain.
Storage
The Northern Lights project has been in close dialogue with NCCS on the characterization of geological storage sites, which has supported the site selection process. Collaboration has centred on faults as lateral baffles or barriers to fluid migration, likelihood of along-fault seep, and reservoir characterization. Other geological research on qualifying satellite storage sites (in vicinity of planned infrastructure) and application of evolving methods has also been central to the collaboration with the Northern Lights team.
Read more: The Safety of CO2 Storage 
In some cases, faults as lateral seal and faults in the cap rock seals of potential storage sites may limit the capacity to forecast and mitigate risk. New fault seal models being developed in NCCS for site qualification can reduce uncertainty and therefore increase the available storage capacity at preferred sites.
Storage operators make seismic data and other measurements available to researchers worldwide, including NCCS, for testing, iteration and improvement of imaging methods and data models. NCCS researchers work together with industry experts to analyse monitoring data from Sleipner and, in future, Northern Lights. Collaborations between research partners with long experience in CO2 monitoring, involvement of vendors with expertise from oil and gas exploration and monitoring, and a close dialogue with industry partners ensures that NCCS research activities have the highest possible relevance for the Northern Lights project.