Insulators and associated parts are key components that determine the reliability of the power distribution system. Reductions in electrical and mechanical functionality represent serious threats that regularly cause power cuts and pole fires. Each year there are reports of several hundred failure incidents related to insulators or steel wire seizing.
Causes of failures
Examples of failures include flashovers and leakage currents along insulators, as well as wear and tear on mechanical suspension clamps resulting from corrosion. Inspections of pole tops can reveal deterioration of an insulator's properties, such as corrosion deposits on cross bars.
Hazardous corrosion deposits
Detailed inspection is necessary to reveal smaller deteriorations. On the insulator shells, see image below, traces of iron oxide is revealed. Iron oxide, together with other conductive contaminations sources such as salt and water, provide ideal creep current pathways.
Reduced lifetime
On the power line's steel core, corrosion is revealed in exposed areas, such as under the steel wire lashings. Rust is formed because of rupture in the anti-corrosion zinc sheath. Rupture of the zinc sheath means that the steel core has entered a critical phase in which deterioration of mechanical strength may be aggravated, and shortening of lifetime accelerated, as a result of corrosion.

Good and inadequate insulators
It is not easy to distinguish between a good and an inadequate insulator. Suppliers tend to refer to approved tests based on established standards. However, this is no guarantee that an insulator will stand up to the actual operating conditions.
SINTEF has for several decades been assessing the actual environmental stresses to which insulators are exposed.
There are major variations in operating conditions from region to region, but major variations can also occur even along a single transmission route. Thus, for longer routes, it will not necessarily be optimal to install a single type of insulator and insulator length for the entire route. In harsh environments, the number of faults can be reduced by installing long insulators. Other places, the pylon size may be reduced by installing shorter insulators.
Sorting the wheat from the chaff
SINTEF Energy Research has developed an environmental chamber aimed at sorting the wheat from the chaff. Insulators, whether they are new, ageing or contaminated, are installed in the chamber and exposed to high voltages and humidity. As high voltages exert stress on the insulators, creep currents and partial discharges are constantly measured. Following the tests, the most robust insulator is selected for the specific operational environment in question.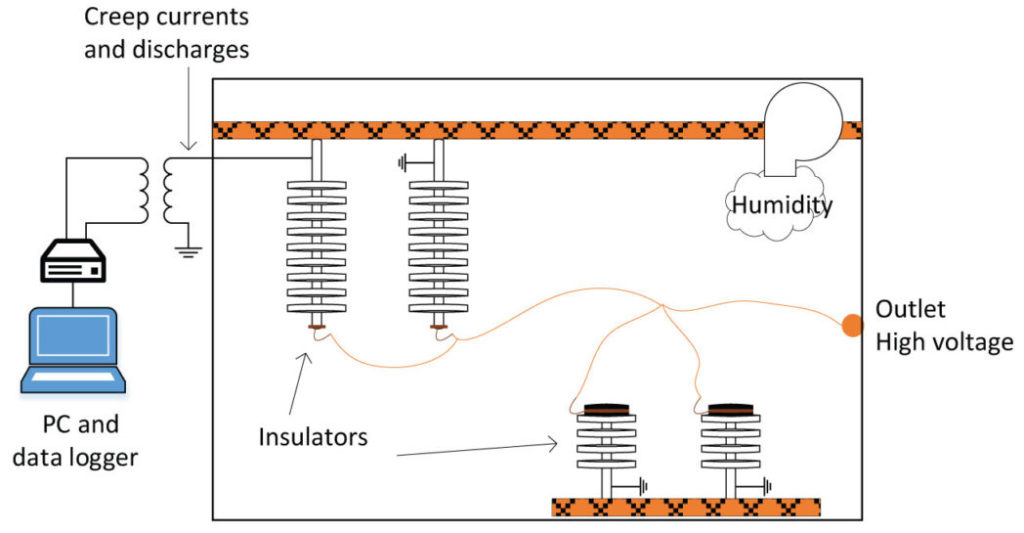 References: